Company Culture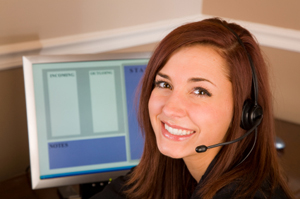 We love what we do. The passion we have for our work enables us to take ownership of our clients' projects. We constantly strive to deliver the highest-quality products possible.
There is no greater satisfaction than delivering a finished product that helps a client reach their goals and objectives. To learn more about our approach to customer service, follow the provided links for more information.
Our Mission And Promise To You
The mission at Accu-Print is to exceed client expectations by consistently delivering high quality goods and services in an efficient manner, at competitive prices, and by people who care. Our company strives to identify and create partnerships with the various groups with which it is involved, including customers, employees, vendors, competitors and the citizens in our communities.
Accu-Print employees have demonstrated the ability to focus on the key ingredients necessary for long-term success. They also have demonstrated their ability to generate new ideas and innovative strategies to insure the continual growth of our company.
Guiding Principles
After a successful career serving customers in medical markets which took them from Oklahoma City to San Antonio to Atlanta then to Dallas, Candy and Chuck Ellis decided against taking another promotion that ultimately would have put them in the San Francisco bay area. So, in January, 1986, Accu-Print was opened in the Colonnade in San Antonio, offering one and two color printing and "self serve Macintosh rental". Accu-Print has moved to a larger facility located at 3503 Crosspoint. We feature KODAK Prinergy Connect Computer to Plate, KODAK MatchPrint Inkjet Proofer, a 6 color 29" Heidelberg press with a coater, a Kodak NexPress digital press, and Variable Print capabilities.
Today, Accu-Print is a leader in the San Antonio market, keeping up with the latest technology in our field. The company offers a full line of graphic communication services, including one to four color process printing, high speed duplication, a full service bindery, full color copying, color electronic publishing, mailing and a complete prepress and design department.
The Ellis' continue to demonstrate their commitment to being amongst the best performing print shops in the industry. In December 2008, Chuck Ellis became one of the country's first CPrint Certified Production Managers by CPrint Certified Printers International, an elite organization of independently owned, family-based printing businesses that strive for professionalism and performance. There are only 18 certified printers in the country.
We continue to evolve as a diversely skilled, fast-moving team of professionals ready to learn from each other and meet whatever challenges our clients may face. Our experience enables us to ask the right questions and make the best recommendations for your projects. We will help you make your printed material look better so that it will have a greater impact when it reaches your client's desk! Our people have a "can do" attitude and are eager to serve you.
Using online and digital technology we make it easy to get an estimate, place an order, check a proof or send us a file. Enjoy!
Accu-Print is an award winning San Antonio, Texas based printing, copying, and graphic design firm offering commercial printing for brochures, business cards, direct mail flyers, digital color copies, business forms, annual reports, manuals, signs, posters, catalogs, invitations, wedding announcements, letterhead and stationery, and much more. Please allow us to have an opportunity to serve your printing needs.