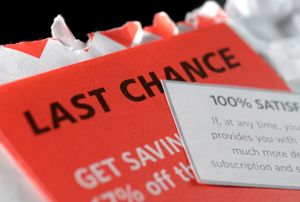 Direct Mail Marketing
We offer Direct mail to clients in San Antonio and around the world. It is one of the key services that we offer to organizations. We stock a large variety of envelope sizes and colors. We print postcards, flyers, letters, self-mailers, business reply cards, or anything else that you need to put into the mail. We complete the project by either using your mailing list or procuring a mailing list using your specifications and addressing the printed pieces plus applying barcodes and sorting for maximum postal discounts.
Direct Mail Print Pieces
Direct Mail print pieces are:
Easily Created • Cost-Effective • Personal
Targeted • Tangible • Results Driven • Measurable
Most people pick up their mail everyday and many sort it immediately. You can put your message in your customer's hands with Direct Mail. Direct Mail is a trusted and powerful response-generating medium that can be used alone or as part of a coordinated marketing campaign. With personalized digital print direct mail, each piece can be set up to target a specific customer. For instance, when you send a direct mail piece with name and image personalization you are grabbing attention by addressing a customer by name and making a connection by providing an appealing image based on that customer's interests or demographics.
New technologies, including digital print with variable data, enable Direct Mail to make a stronger impact when coordinated with online capabilities. Some people simply prefer to use online access when they want to contact a business. Direct Mail messages integrated with online Personalized URLs (PURL) make it possible to initiate communication with customers while also offering the customer or prospect a choice in how they want to respond.
Accu-Print has been listed as one of the top printing firms in San Antonio along with Lopez printing and others.
Direct Mail should be a core component of any marketing mix.
Targeted Direct Mail enables you to make the right offers to the right customers with a clear call to action. In addition to PURLs, a direct mail piece can be a catalyst for driving traffic to your website or your store when it includes 2D Barcodes / QR Codes and personalized mapping. Accu-Print's Direct Mail service has many benefits including helping you: • Stand Out from Competitors • Connect with Customers • Build Relationships • Realize Higher ROI View other direct mail and print options. View our other direct mail and print options.