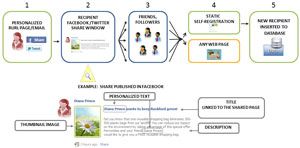 Marketing should not be static.
Technology makes it possible for all marketers and businesses to incorporate interactive marketing.
Interactive marketing is the perfect complement to cross-media marketing. The e.f. group helps clients with cross-media options, whether through print to mobile, mobile to web, or email to social media the interactive connections allow consumers to choose how they want to respond to marketing messages.
We have said it before; today's consumers are on the go. Marketers cannot rely on reaching customers only through their mailboxes or inboxes.
The e.f. group offers interactive marketing solutions that incorporate the newest technologies available to motivate action and help marketers reach their goals. We can build, manage and track your campaigns so you can measure your marketing efforts.
Did you know Facebook shares can be interactive, automated and personalized?