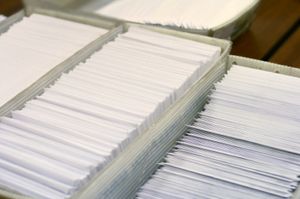 Accu-Print Mailing, Inkjetting and Inserting
We Master these Mailing Services
Based in San Antonio, Accu-Print's mailing services include up-to-date technologies to ensure your mail gets to customers efficiently and in the most cost effective way possible. Not many other mailers take pride in being a master at what we do. If you have a customer mail list we will optimize it for your mailing or we can secure a mail list for your project. Using sophisticated mail list software, including features such as dedupe, merge, and Cass certification, Accu-Print provides a one-stop shop for all your mail needs.
We take care of everything for you, from sorting the list and addressing your mail piece to delivering your mail to the post office. And, we make sure all mail is in compliance with USPS requirements such as, but not limited to, Move Update, NCOA, and Intelligent Mail Barcode.
Accu-Print Mailing Services Include
At Accu-Print, mailing is one of the specialized services we offer. Whether you are mailing a postcard or a custom bulky mail piece, we can make it easy for you.
Please call us with any questions you may have and our knowledgeable staff will help you decide what mailing options are best for your job.